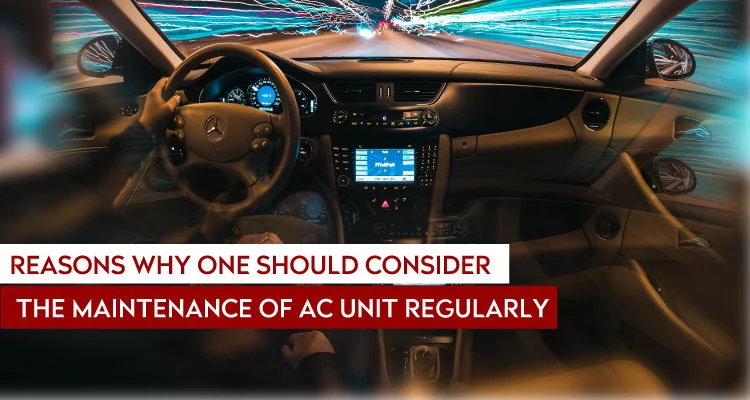 Reasons Why One Should Consider the Maintenance of AC Unit Regularly
July, 14 2023
Driving without proper AC functioning is a big no, especially in the summers of Perth. It is not only frustrating but also leads to the overheating of your vehicle's engine. Like every other gadget, the AC of your car needs regular maintenance too. It is a major need for everyone in summer. That is why it's crucial to keep a check on the health of AC and get it serviced from time to time.
If you are noticing the lowered performance of your car's AC, you need to rush to Perth Car Service for excellent car maintenance assistance. We promise the peak performance of your AC without spending so much.
Top Reasons for Timely AC Maintenance
Everyone knows the significance of AC while driving in the scorching heat of Perth. That is why you need to keep it in good health for a better driving experience and to avoid misfortunes. Take a look at this article to know the top leading reasons why you should go for frequent AC maintenance.
Extend Lifespan
The best way to extend the lifespan of your car's AC is time to time maintenance. It's common for appliances to break out after some time. But you need to get it repaired or serviced to prevent costly expenses later. In case you ignore the strange behavior of the AC in your car, it will get completely worn out even before the expected time.
Boost your AC Performance
If you feel like your AC is not performing at its peak efficiency, then you should go for AC maintenance assistance as soon as possible. The AC of your car needs to be taken care of, and its frequent assistance is the first step towards it. You can reach out to our air conditioning repair shop to enhance the performance of your AC at cost-effective rates.
Fuel Efficiency
Driving a car with AC malfunctioning can cost you a lot. It is because the broken AC exerts an extra load on the engine that leads to the use of up to 20% more than usual fuel. That's why it's better to spend a little on its repair instead of spending on fuel first and then on the other components of the car later.
Fresh Air
Do you want to have fresh air in your car? Get your AC serviced immediately. It plays a key role in keeping the quality of air good. Moreover, changing the air filters block dust, pollen, bacteria, and other litter from getting in and causing allergies to you or your loved ones. Our professional and skilled mechanics can replace the aircon regas that help to keep your car cool again.
Reduce the Risk of Compressor Failure
If your car's air conditioner is not repaired on time, it will result in malfunctioning of other essential components as well. There is a high chance of wearing out the costliest component of a car which is the car compressor. That's why it's better to get your air conditioner repaired on time before it damages other crucial parts.
Prevent the Engine from Overheating
The vehicle's cooling system has a great impact on its heating system. An air conditioner helps in keeping the car engine cool. Thus, it is vital to keep your vehicle's AC in good health, not only on hot summer days but also in winter. Otherwise, you are likely to face some serious outcomes.
At Perthcarservice, we aim to provide trustworthy and dependable assistance for the residents of Perth. Whenever you notice any awkward behavior in your car, you can visit or contact us without any delay. We are available around the clock to offer you our exceptional assistance. Your satisfaction is assured!