Disc Brake Service Includes
Our service of disc brakes typically involves the major operations which are discussed below.
Brake pad replacement
Inspection of wheel bearings
Resurfacing the rotors
Complete hydraulic inspection
Disc brake service report
Drum Brake Service Includes
Our drum brake service consists of the following components for proper car functioning.
Inspection and cleaning of wheel bearings
Removing parts from backing plates
Cleaning of brake components
Full brake system inspection
Shoe replacement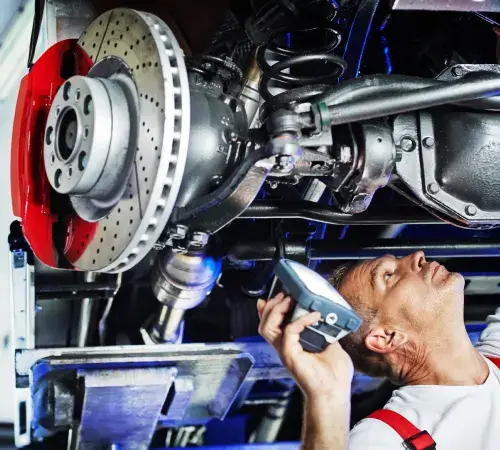 Brake Repairs Benefits
Brakes are a significant safety part of the car. If your brake takes a long time to stop the vehicle, it is the right time to get brake repairs and maintenance services from experts like us. You will get various benefits by acquiring services from our trained brake mechanics.
Ensure Life Safety
Well-functioning brakes play an essential role in keeping you and others safe while driving. Getting car brake services from time to time can easily ensure life safety by increasing the ability of the car to stop on time. Resultantly, make you secure from severe road accidents.
Higher Resale Value
When you give your car brakes quality service, it enhances car resale value. Second-hand car purchasers always prefer to buy well-maintained cars and pay more for them. Furthermore, also try to keep brake inspection and report documents for future buyers if they ask about it.
Fewer Brake Replacements
Regular maintenance can easily keep your car brakes performing well in the future. It can also reduce the times when your car needs brake repair and maintenance service. Time-to-time brake inspection services from us can also prevent you from future costly repairs.
Higher Gas Mileage
Proper functional brakes can also reduce the usage of gas while driving. Cars work more efficiently by getting proper brake servicing from professional mechanics. The well-maintained car requires less fuel for better and optimum performance while driving.
Why
Choose

Us
Time Saving
At Perthcarservice, we always value the time of our clients and provide them with quick car brake maintenance services after finding the vehicle's brake issues in detail.
Cost-Effective
Our mechanics are trained well and provide you with best and cost-effective car brake repair services to make your drive hassle-free on the roads.
Advanced Tools
Our brake repair services are exceptional and long-lasting because we use the latest tools to fix the issues of your car on time and prevent future costly repairs.
Quality Services
Perthcarservice provides exceptional brake repair services such as replacing worn-out brake pads and avoiding fluid leakage etc, without compromising the quality of your car.
Brake System Important Components
Below are the essential components of the brake system that combined help in stopping or slowing the car whenever you apply the brakes.
Brake Pads: Brake pads usually provide friction between the wheels and the rotors. It can easily slow down or stop the moving car by changing the kinetic energy into heat.
Brake Pedals: It's the most crucial component of a car and makes it able to stop on the road when you press the brake pedal. Thus, it keeps you and others secure.
Disc Rotor: The disc rotor easily stops your car whenever you press the brake pedal. The friction between brake pads and rotors helps stop the car.
Brake Drum: The brake drum consists of brake shoes. These brake shoes press onto the brake drum to slow down the vehicle while driving.
Brake Calliper: The brake callipers are connected to the brake pads. The pistons in callipers move the brake pads on the disc rotors whenever you press the brake pedal.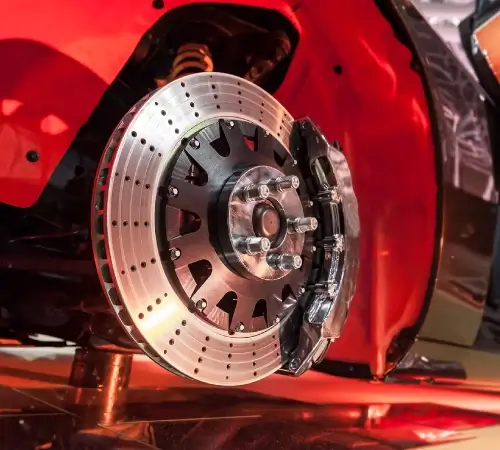 Frequently

Asked Question
Regular servicing of car brakes from Perth brake specialists of companies like Perthcarservice is essential because it guarantees the long life of both the brake and the vehicle.
Ideally, you should have your car brakes inspected once every six months to avoid future problems like accidents on the roads and costly repairs.
The cost of brake maintenance from auto repair shops like Perthcarservice depends on the extent of damage that occurs to your car brakes.