Car AC Repair and Maintenance Includes
With years of expertise, we can easily say a vehicle requires AC inspection and maintenance on a yearly basis. At Perthcarservice, our professional mechanics ensure proper AC functioning by providing exceptional services which are discussed below.
Car Aircon Regas: We remove the old refrigerant gas from your car AC system and refill it. Also, we ensure safety checks on all AC components.
Car AC Compressor Repair: When the compressor fails, your AC system doesn't work properly. Thus, we examine faulty parts of the compressor and fix them as per need.
Electrical Issues: If your car AC deals with any broken wires, bad sensors, or bad modules, we are here 24/7 to inspect and maintain them professionally in no time.
Cooling Fan Inspection: We can easily fix the burned-out, poorly mounted, chapped fan blade, or blown-out fuse of your cooling fan to resolve the overheating issue.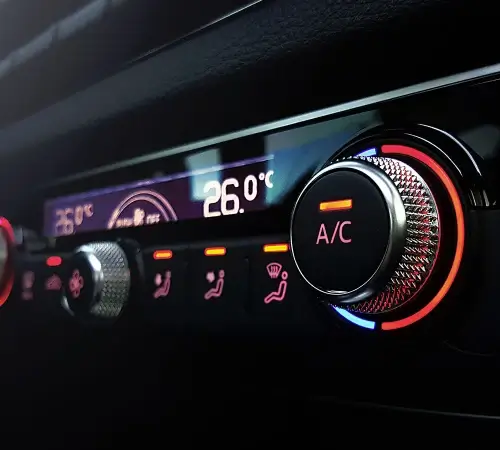 Auto AC Repair Benefits
Having a trouble-free car AC system is essential to keep you comfortable, especially in the hot summer seasons. You can approach us for your car air conditioning installation and service within a short time at a low cost. Let's read about the AC maintenance advantages below.
Better Fuel Economy
The AC system requires power from the vehicle's engine to operate. Thus, failure to maintain the car's AC can lead your vehicle to utilize more engine fuel. As a solution, ensuring the regular aircon repair and maintenance of your vehicle from Perthcarservice can improve fuel economy.
Good Air Quality
Your car's AC system helps to clean the air and regulates humidity. The circulating air can be filled with dust and other contaminants when your vehicle's air conditioner doesn't work properly. Hence, time-to-time car regas aircon service ensures good quality air inside your car.
Maintain Car's Value
It is crucial to keep all the components of your vehicle maintained to retain your car's value. When the AC system of your vehicle doesn't function properly, it poorly impacts the resale value of your car. Timely maintenance of your auto air conditioning system preserves the car value.
Reduce Costly Maintenance
The time-to-time inspection and maintenance of your vehicle keep your bank safe from costly repairs later. You can reduce your auto car expenditures by keeping up with routine car AC maintenance. Let's save you valuable time and money with Perthcarservice.
Why
Choose

Us
Economical Service
We aim to provide reliable and affordable car maintenance service to our clients for a wide range of car models. With extensive experience, we offer pro-level auto services at a low cost.
Accessibility
At Perthcarservice, we understand sudden auto problems can appear anytime. Keeping this in view, we are available 24/7 for excellent car maintenance services without a hitch.
Professional Staff
We provide expert mechanics for your car air conditioning service and maintenance. With years of experience, our car technicians know how to fix your auto issues professionally.
Quick Customized Service
We value our customer's requirements and needs in terms of their vehicle maintenance. Thus, we are here to offer a set of customized car services to meet our client's expectations.
Frequently

Asked Question
The compressor failure is irreparable in some cases. Thus, replacing a faulty compressor with a brand new is the best solution for better and more durable results.
The average life duration of a car air conditioner is approx. 10 to 15 years. If you ensure regular maintenance of your air conditioner every year by professionals, it would be a worthy solution in the long run.